NOTES FROM PRESIDENT
Although it is still quite warm here in Houston, officially, fall is here! Schools are back in session and fall clothes have begun appearing on the racks in our favorite shops.Our Fall General Meeting was held on September 13th with a crowd of over 100 members in attendance.   It was a great meeting with lots of visiting, reconnecting, and gathering of 2015-2016 information! The ladies in our 2015-2016 Provisional class were introduced and our first year actives were presented with their VICTORY pendants.
As your new president, I closed the meeting with a reminder that we are all a part of this wonderful organization for a reason: at some time in the past, a VICTORY member recognized in each of us a talent, commitment, and desire to give back to our community. I presented my challenge to step in, step up, and step out of your box and be INVOLVED in VICTORY. You will learn so much, you will make wonderful friends, and you will contribute to the success of our mission to eradicate cancer in our lifetime. I am looking forward to a fantastic year full of energy and fun! Let's get this party started!
______________________________________________________
UPCOMING HAPPENINGS: Mark Your Calendars
The Holiday Shopping Card Sack N Pack
Friday September 25th  10:00 to 4:00
Saturday September 26th 9:00 to 3:00
Monday September 28th:
9:00
to 8:00
Tuesday September 29th:  
9:00
until we are finished
ACS Offices

The Holiday Shopping Card Packet Pick Up

Wednesday September 30th 10:00 to 8:00
Thursday October 1st 10:00 to 8:00
Friday October 2nd 10:00 to 2:00
Saturday October 3rd 10:00 to 2:00
ACS Offices

CBB Meeting

Wednesday, October 7 –
11:30am,
ACS Offices

VICTORY Executive Board Meeting

Oct. 13th at 11:30
am, ACS Offices

CBB Meeting and

VICTORY

Group Photo Shoot

Tuesday, December 1st –
6:00pm,
Pinto Ranch

VICTORY Holiday Party
Wednesday, December 2nd,
Home of Jackie and Monty Eubank
______________________________________________________
Chair: Laura Oden **
October 22 –

November 1

 
It's SACK N PACK time.  We can't do it without you! Come have fun, meet some new people and put our packets together.  We would love to have your help! Remember that working on Pack and Sack is counted towards your addressing hours.  
SACK N PACK TIMES:
Friday September 25th  10:00 am to 4:00 pm
Saturday September 26th 9:00am to 3:00 pm
Monday September 28th:

9:00am

  to 8:00 pm
Tuesday September 29th:

9:00 am

until done
Packet Pick Up will begin September 30th
. 
All active and provisional members are assigned merchant packets which must be picked up at the ACS offices and then distributed to the assigned stores.

PACKET PICKUP TIMES:

Wednesday September 30th 10:00 am to 8:00 pm
Thursday October 1st 10:00 am to 8:00 pm
Friday October 2nd 10:00 am to 2:00 pm
Saturday October 3rd 10:00 am to 2:00 pm

Have time to Help? Contact these ladies for questions about these sessions:

Diane Walla

 

SACK N PACK 

Karen Highfield

PACKET PICK UP

Kristina Somerville

PACKET PICK UP

Diane Johnson
Don't miss out on this deal. 
Take advantage of purchasing The Holiday Shopping Card at the member discount of $70.  For an extra dollar – we will mail it to you.  This discount is good through Monday October 12th. To order your card, contact us by phone at
713/266-2205
or email
mailto:hschouston@cancer.org

Did someone say party? We have 11 kick off parties this year.  New to our line up are Renovate, Vince, Mariquita Masterson, J Landa Jewelry, Initials Gifts and Monogramming and Maida's Belts and Buckles.Your support of these events is so important.  Please gather up your friends and come to one of these wonderful Kick-Off parties.
Wednesday October 21st:

Renovate

7413 Westview

10:00 – noon

Vincent Ford Custom Apparel

1818 Fountain View

Up Restaurant – Tree Lighting

3995 Westheimer Road

5:30 – 8:00

Thursday October 22nd:

Joseph

39030 Westheimer Road

Vince

River Oaks District #A19

Mariquita Masterson

2505 River Oaks Boulevard

IW Marks

3841 Bellaire Boulevard

6:00 – 8:00

Friday October 23rd:

J Landa Jewelry

2412 Rice Boulevard

CITY CENTRE – Band on the Plaza

6:00 -9:00

Saturday October 24th:

Initials Gifts and Monogramming

12454 Memorial Drive

Maida's Belts and Buckles

5727 Westheimer Road
 Watch for all of the upcoming HSC happenings on the website.
______________________________________________________
CATTLE BARON'S BALL: April 30, 2016
Co-chairs:  Allison Flikerski and Lauren Maloy
We have definitely been hitting the ground running.  Thanks to everyone who helped get us to over
$300,000 in underwriting!
To keep things on a roll,
Finance Packets are going in the mail next week
, so look for yours in your mail box soon.  If you would like to
add a personal contact to the Finance Package mailing list
please forward them to us at
CBBHouston@cancer.org
We are planning meetings for Finance, Auction, Car Raffle, and Wine Pull chairs over the next few weeks to solidify our fundraising business plans.
Allison Flikerski, Gigi Harbison and Lauren Maloy

We are definitely excited about finalizing the entertainment and catering choices.  We will keep you posted as decisions are made.
 Make sure to join us on October 7 for our first "
Hope on the Range
" CBB meeting at
11:30am
at the ACS offices.  Every committee should be represented at each meeting.

****LIKE Houston Cattle Baron's Ball on Facebook! Click

Here

!
______________________________________________________
MEMBERSHIP UPDATE
Jennifer Barron, Membership Secretary
Ashley Wright, Assistant Membership Secretary 

Welcome ladies to another great

VICTORY

year!  This year we have 30 wonderful new Provisionals, 101 amazing Actives, 77 incredible Active Associates and Associates and 167 super Sustainers. 
Your pictorial directory and pocket directory are both available. If you have not picked them up, they are waiting for you at the ACS office. Please stop by, they are in a folder with your name on it. 
We look forward to working with each one of you and helping you keep track of your

VICTORY

hours.
______________________________________________________
PROVISIONAL NEWS
Kimberli Bishop, 2nd Vice President 
This year's class is off to a running start!  We had a great turnout to the Provisional 411 orientation evening in Jackie Eubank's home.   A big Thank you to our VICTORY members for providing such strength in their recommendations for our 30 new members.. As we embark on this year,  it is exciting to see how the Provisionals have already begun to make an impact.
Stay tuned in the coming months for opportunities to get to know them a bit more personally, but in the meantime, when attending an event, look for the ladies with a the pink dot on their name tags.  Please introduce yourself as these are our newest members and they would LOVE to get to know you!

Darci Mulrine

Amy Nogueira

Sara Parr

Lynnae Partridge

Karen Peltz

Katherine Pulse

Kate Raffaele

Kayla Rollins

Rachel Saltsman

Kristin Thrasher

Belen Timmins

Amy Urquhart

Rachel Von Gonten

Anna Williams

Tasha Willis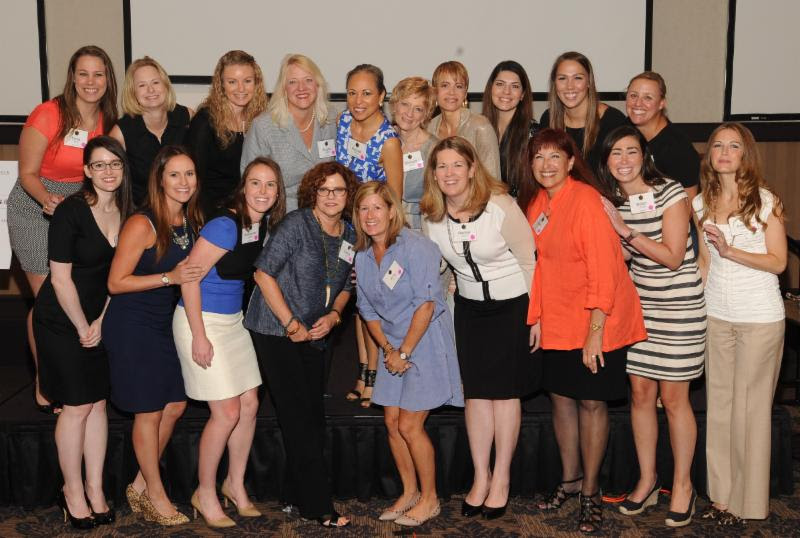 The provisional class was well represented at the
September General Meeting.
______________________________________________________
VICTORY NEWS: General Meeting
Ashley Wright, Price DuBose, Sheree Prather, Dee Darby, Becky Joy and JoLynelle Farina
If you were unable to attend the September General Meeting, you missed some exciting news!  A check for over $4 million dollars was presented to the American Cancer Society.  This total was a combination of the proceeds from our Holiday Shopping Card and Cattle Baron's Ball fundraisers. Way to go VICTORY!
Moving Soon: We have known for some time that the American Cancer Society offices were going to move.  At the September VICTORY Board Meeting, Sheree Prather with American Cancer Society, announced that the move should take place during the first week of November. The offices are relocating to a temporary location at 2500 Fondren, suite 100. The building is located across from the old Vargo's location. Stay tuned for updates next month.
______________________________________________________

NOMINATING COMMITTEE

Dee Darby,
Chairman
Dee Darby and Jackie Eubank 
Thank you ladies for nominating a great list of prospective Nominating Committee Members at our General Meeting. We now have a full committee ready to take on the task of securing a slate of officers for the VICTORY Executive Board and Special Events Chairs for the 2016 -2017 year.
The Nominating Committee consists of the following members:
Dee Darby,
VICTORY
President-Immediate Past
Gigi Harbison, Current
VICTORY
President
Betty DuBose, Current VICORY 1ST Vice President
Becky Joy, Past Special Event Chairman/Cattle Baron's Ball
Price DuBose, Past Special Event Chairman/The Holiday Shopping Card
Allison Flikerski, Current Special Event Chairman/Cattle Baron's Ball
Laura Oden, Current Special Event Chairman/The Holiday Shopping Card
Jennifer Barron, JoLynelle Farina and Ashley Wright, Members elected by the General Membership at the Fall General Meeting
As a
VICTORY
member your input is invaluable, we welcome your recommendation of others that you feel would make good leaders and encourage feedback as to your personal interest in being considered for any of the following positions:
2016 – 2017 Officers of
VICTORY
The Holiday Shopping Card Chairmen
The Cattle Baron's Ball Chairmen
______________________________________________________

VICTORY: FAMILY NEWS
Leslie Rogers
Please join us in congratulating the following VICTORY women on their exciting news.

Engagements: 
Sidney Short is engaged to Jason Fagan and planning an April wedding in Sewanee, TN.
Kelsey Brooks is engaged to Josh Wright.
Scarlett Darby is engaged to Kevin Coffman.
New Additions:
Shelley Matthews gave birth to a baby girl, Kirby Farish Matthews on September 10.
Tany Jeter Klaes had a baby girl,  Mary Frances Klaes, on September 1st.
Jennifer Harbison, Gigi Harbison's daughter in law,  had a baby girl on September 11, Madeline Elizabeth Harbison.
Provisional Kayla Rollins gave birth to a baby boy,  Pierce Edward Rollins, on September 4th.
Special Honors:
Jo Ann Petersen has been named a 2016 ABC-13's Women of Distinction.  The Announcement Party will be Wednesday, September 30 at Saks at

7 pm

.  The Winter Ball, benefitting Crohn's and Colitis Foundation, will present the Women of Distinction on

Saturday, January 23

.
Elizabeth Stein has been chosen as a 2015 Greater Houston Women's Chamber of Commerce Hall of Fame recipient.  The Announcement party will be October 13 at 6:00 pm at Elizabeth Anthony.  Gala information is not available at this time.
Elizabeth Stein and her husband Alan are also being honored as one of the Texas Children's Cancer Center 2015 Community Champions.  The luncheon and Style show will be held on October 9.
Meredith Riddle Chastang, CultureMap National Accounts Director, has received Honorable Mention in Houston Business Journal's "40 Under 40" Awards. Judges scored nominees on leadership, overcoming challenges and community involvement.
September and October Birthday Shout Outs!
Happy Birthday to our September and October birthday members!
Sept. 3          Jennifer Harbison

Sept. 5          Denise Monteleone

Sept. 6          Jean Frazer

Sept. 7          Denise Leisten

Sept. 8          Peggy Swoboda

Sept. 9          Annette Disch

Sept. 10        Stef Levy

Sept. 10        Raquel Lewis

Sept. 11        Wendy Moreland

Sept. 12        Nancy Stobaugh

Sept. 14        Joy Pulaski

Sept. 14        Kristin Thrasher

Sept. 15        Sara Parr

Sept. 17        Elizabeth Fitzgerald

Sept. 19        Debra Hren

Sept. 22        Tany Jeter Klaes

Sept. 22        Morgan McMahon

Sept. 23        Diane Watson Cain

Sept. 23        Elizabeth Garcia

Sept. 25        Katherine Jones

Sept. 26        Diane Cervenka

Sept. 26        Sheridan Walton

Sept. 29        Betty Wiseman

Sept. 30

        

Mary Katharine Rof
Oct. 1          Karen Linville

Oct. 2          Alyssa Kilpatrick

Oct. 3          Sidney Short

Oct. 3          Shelley Matthews

Oct. 6          Melissa Garlington

Oct. 6          Nikki Wise

Oct. 7          Lauren Lusardi

Oct. 7          Emily Shields

Oct. 9          Lisa Braly

Oct. 10        Cyvia Wolff

Oct. 11         Lynne Jurek

Oct. 11         Wendy Swantkowski

Oct. 11         Sue Nan Cutsinger

Oct. 12         Chandra Bonine

Oct. 13         Jenna Bissell

Oct. 14         Aimée Phillips

Oct. 15         Vickie Lander

Oct. 16         Denise Roeder

Oct. 16         Amy Brown Stargel

Oct. 17         Nicola Ford

Oct. 18         Pam Jones

Oct. 18         Beth Kirkpatrick

Oct. 19         Marilyne Riley

Oct. 21         Lindsey Beard

Oct. 21         Lindy Hill

Oct. 21         Cheryl Fee

Oct. 23         Martha Adger-Madget

Oct. 24         Nory Mims

Oct. 24         Debbie Chenevert

Oct. 24         Liz Frick

Oct. 25         Darby Hopson

Oct. 25         Bette Atkins

Oct. 25         Susan Nelsen

Oct. 25         Suzanne Sklar Simons

Oct. 26         Sarée Mims

Oct. 27         Allison Flikerski

Oct. 27         Franelle Rogers

Oct. 27         Valerie George

Oct. 27         Louise Ratz

Oct. 30         Rene Lummis

Oct. 30         Emily Wilkinson
More News?
Have any member news that you want to share?  
______________________________________________________

Thank you to Alexander's Fine Portraits for providing the photographs included in this newsletter.
______________________________________________________
VICTORY: About Us
VICTORY

, a branch of the American Cancer Society, is a special group of outstanding women dedicated to raising funds to help in the fight against cancer

afadfadfaf